Hi,Dear Friends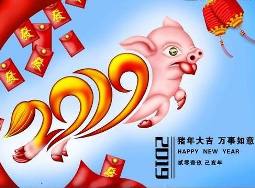 How are you?

Feb 5 is Chinese New Year's Day. According to the Chinese customs, I would like to say Happy New Year to you.

Similar to Christmas in the West, Chinese New Year is the most important festival of China. Whenever possible, we will go back home to celebrate it with our family members, especially with our parents. This festival has a duration of 15 days usually.

So, now, in my 4th hometown - Shenzhen, a city next to Hong Kong by the South China Sea, about 1/3 (about 7 million people ) or maybe 1/2 (about 10 million)of population has left for their hometowns but about 6 million of people have come /would come into the city... a very obvious phenomenon is: in the garden which I am living in, about 1/2 of cars have left for their travels; the usual crowds of people out of the garden has disappeared; the lights of the stores along the streets have been replaced by the decorative lights of the city because maybe 99% of the private stores have been closed and will not be re-opened in 5 or 8 or 15 days... :- )

Anyway, it is not a bad thing for me for I really need a quiet time to recover my health from the over-fatigue in Beijing and the hard fights with the sicknesses since another 3 minimally invasive surgeries in my digestive system, 7 physiotherapies on my cervical vertebra and 3 CT checks, 2 endoscope and 1 endoscopic ultrasonography checks in 3 hospitals in Shenzhen in the past 3 weeks...

Two doctors of 2 hospitals asked me to be hospitalized but I didn¨t want, otherwise, I should not be home at this time. :- )

So, as soon as the first phase of the checks and treatments was completed on Feb 3, 2019, I came back to my computer and had my first English lesson at about 7:30am on Feb 4.

Also, I wrote this letter and created my first painting on the Chinese New Years' Day / Feb 5, 2019 even though I was still ache very much here or there so that I had to stop for a short rest several times during the work.

Although I do not satisfy my jobs for it has not reached my average painting level yet, I am happy for I have completed it finally and I have recovered my study and work again... :-)

I really want to complete the adjusted time as soon as possible and be able to re-involve into a new phase of study and work soon.

How about you? Have you started a wonderful new week until now? Have you had anything special to share in the past several weeks?




Sincerely, I am just a student on Arts of Painting, Music, English and Management,and work on the web site in my free time. I would really like to do something with what I have learned, to make this little web site to be a little Electronic Bridge of Cross -cultural and Comprehensive Art Study and Chinese Language Learning, to help the others while to improve myself.

I would like to appreciate you for your good understanding, directions, supports and help.

If you have any questions, comments or suggestions, you are welcome to write to shirley@ebridge.cn or leave your message on Message Board.

Shirley Yiping Zhang

Feb 5, 2018 (Beijing Time)