Hi,Dear Friends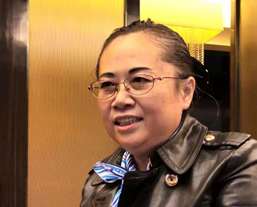 How are you?

Since I wrote to you last time, 4 weeks have passed. Have you had a wonderful month?

On my side, I have mainly done 3 things.

No. 1: I have had 2 travels from Beijing to Wixi to Shenzhen, re-painted my apartment, re-booked some important equipments which had been destroyed during I was in Beijing.

No. 2: I have completed a new paper for establishing a new subject ^Poetry, Painting and Music: Comprehensive and
Artistic Chinese ̄ in Chinese as a foreign language field with 7,500 Chinese characters and submitted its abstract to an international Conference organized by a foreign university in 2019. I would really like to summery what I have studied in the art colleges, practiced by teaching and art exhibiting in the U.S. and the long-term¨s thinking in the past 10 years and tried to improve them to the theory level.

I will not know whether I will be able to make a speech in the Conference before Dec 31, 2018. I have no a pity for I have done what I have been wishing to do since I walked into the art college since 2010... I am thinking, if it works, I will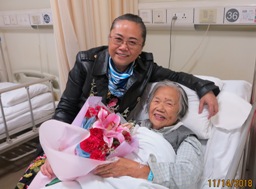 have an opportunity to extend what I have thought and done in the USA into more places in the world; if it does not work, I will use the opportunity cost of time to take part a course from nature by my supervisor in Xinjiang during the conference time...After all,to create a new subject in Chinese as a foreign language field is just one wing of my dream, the other wing is to create a new and multidimensional art form in the pure art field...

No. 3: I have basically gone out of the multiple frustrations of health and psychology because of the hurt from two accidents during the course of painting from nature in Taihang Mountains in Henan Province , which had stopped me to paint for about 100 days; the huge pressure from the conflict between my own dream and the requirements of the art colleges ( my purpose is to create a cross-cultural and comprehensive art by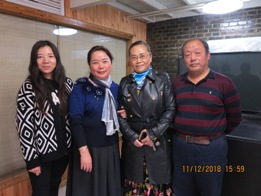 combining painting, music, poetry, language and multiple Chinese arts together and find and create a support on theory via studying in the top art colleges of China for 9 years, instead of becoming a pure painter only ) ; the terrible allergy to the mould in my apartment which has been closed too long time in the moist climate by the sea, and the huge loss on the furniture, appliance, time and money I have to spend on re-buying and re-fixing them...

So, after stopping for 100 days, I re-took up my painting brushes to write and to paint, and I have done 3 pictures since I submitted the abstract for the conference on Nov 29.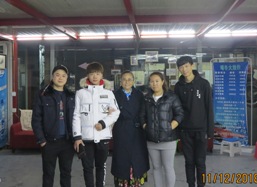 In addition, I have postponed my examination for an international certification as a Chinese teacher from Dec 22, 2018 to March, 2019. I would like to use the time to complete the 3rd paper which has been done about 50% before I went to the U.S. April, 2018, meanwhile, I want to complete the last 39 paintings of my 300 landscape assignments...

Anyway, no matter what happened to me, I have been keeping doing a dictation in English every day. Most of time, it includes 600 to 900 words, the longest one is about 2,400 words.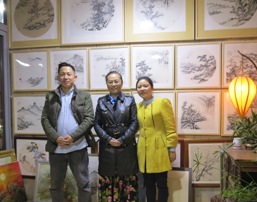 Although 10 years have pasted since I was a student for my first master degree (MBA) in the USA, many professors and friends have retired from the university, I am still seeking my cross-cultural art dream and working for my second master degree (MFA) for preparing to open a new course in an American college and continuing to teach in 5 K-12 American schools in my next travel in 2019 and 2020 as we had appointed in my last travel in Spring, 2018.

The road is long, far away and winding, work is getting harder and harder, my heart is peaceful and still firm, I would really like to go up and down to seek my heart¨s desire by helping and beautifying this world...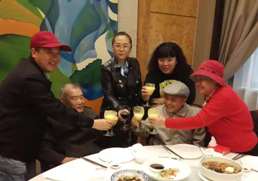 How about you? Do you have anything special to share in the past several weeks?

Notes:

No.1: I was singing a Chinese poem song I myself composed the music for my former colleagues in Wuxi.

No.2: My father and I in his home in Wuxi.

No.3: I went to see Mrs. Huang who looked after my son when he was a baby in Wuxi in her hospital.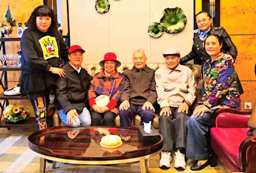 No.4: The clerks who looked after my apartment and I in Beijing.

No.5: The group of young people who looked after my car and helped my moving and I in Beijing

No.6: The couple of wife and husband who helped me to decorate my paintings and I in Beijing.

No.7 & 8: My former colleagues and I in Wuxi.



Sincerely, I am just a student on Arts of Painting, Music, English and Management,and work on the web site in my free time. I would really like to do something with what I have learned, to make this little web site to be a little Electronic Bridge of Cross -cultural and Comprehensive Art Study and Chinese Language Learning, to help the others while to improve myself.

I would like to appreciate you for your good understanding, directions, supports and help.

If you have any questions, comments or suggestions, you are welcome to write to shirley@ebridge.cn or leave your message on Message Board.

Shirley Yiping Zhang

Dec 11, 2018 (Beijing Time)