Name: Shirley Yiping Zhang
Birthplace: Beijing, China
Education: MBA from USA; B.A.from China
Candadite for Master of Fine Arts at Chinese National Academy of Arts
Majored in: Chinese Painting
Chinese Language & Literature
Business Administration
World Economy
Journalism (News)
Minor in : Vocal Music
Occupation: Artist, Editor; Former Manager and Chinese Instructor
Travel: America, Australia, France, Belgium,
Luxemburg,the Netherlands,Italy,
Germany, Austria, Vatican, Malaysia


Reports of the Media of USA & China:
Springfiled News-Leader:Chinese artist finds beauty in translation
Ozarks Technical Community College: Visiting Artist Shirley Yiping Zhang
County Citizen, Seymour,MO:Ava Art Guild to host world renowned artist
Shenzhen Daily:English Book Combines Chinese Poetry,Paintings and Music
Appalachla News-Express: A Taste of China's Art and Culture
Shenzhen Daily:An Ambassador for the Chinese Arts
Missouri State University:Shirley Painting Exhibition & Demonstrations at PSU Gallery
Springfield District Art Council & Springfield Area Camp of Commerce:Visit China - Right Here in Springfield During Sep 4 First Friday Art Walk
First Friday Art Walk: The Creamery Presents International,Local Art


I was born in Beijing and became one of the young "corps soldiers" in the frontier between Russia and China in the Culture Revolution when I was 14 years old.

I was so lucky to enter the university as soon as the tragedy was finished. Then I have had my education in 8 universities in China and in Amercica as a full time student for 9 years and part time student for 6 years.

I was a manager, an editor and an instructor who enjoys the creative work; I am an artist who loves to work on painting, melodizing (write music), vocal music, piano, photography, writing, reading and translating...

I love sea, sky and nature. In my eyes, no matter a tree, a flower, a bird or a butterfly, no matter a cloud in the sky, a fish in the sea or a little kid by the street, there are something beautiful in their hearts (if they have one) or on their bodies. Every day, I get inspiration from the great nature, wonder why the great nature produces such a beautiful world and try to express its pretty with my own art works...

I love the art of impressionism, Chinese flower and bird paintings; European classical music, American light rock and China's folk music; classical architectures and photography of nature; I enjoy reading the works by Honore de Balzac, Charles Dickens and Shakespeare, watching the moves such as Forrest Gump, Titanic, and Green Mile...Now I am enjoying reading Bible.

I have been to America, Australia and Europe. I like the travels and the learning from the other cultures. I got my degree of MBA in the US when my child got his bachelor's in Australia; held 3 art exhibitions in Springfield, MO, Missouri State University and City of Peckville of Kentucky, USA in 2009, 2010 and 2013. Offered 89 free Chinese painting and Chinese poetry classes for more than 2300 American students and adults in 27 schools and 2 art galleries and 1 hotel.

Since 2000, I started to work on a cross-culture and comprehensive art study, think and exploration. Focus on Chinese poetry, I created or painted Chinese paintings, music and essays, created a series for this project:

1) Vocal, Bilingual Poetry & Painting Series: Every painting includes a poem and the poem has been translated into English, can be sung in Chinese and in English. Students learned the poem by enjoying the painting and sing the poetry song.

2) Stories behind Chinese Painting Series: Every painting includes a story

3) General Traditional Chinese Painting Series:
-- Chinese Gongbi--Realistic Paintings
-- Chinese Xieyi--Freehand Brushworks
-- Mixed Gongbi & Xieyi Paintings
-- Chinese Mogu Painting
-- Chinese Baimiao Paintings

4) Music Job:
--I Created Music for Chinese Poems
--Bilingual Chinese Songs

After publishing my first translation book series and my 13rd - 16th books, to talk something about American music and Movies with 0.93 million words in 2002, the Volume One of my new book series and DVD Together with Me, Learn Chinese Culture and Language by Enjoying Paintings, Music and Poetry was published by Jinan University Publishing Press May, 2013. And now, I am working on the Volume Two, meanwhile to prepare to write another book names My American Stories.

The learning of cross-cultures and multi-arts has helped me to live with a very peaceful and calm heart, to treat the others and the world with a wider and tolerant heart.

I am proud of myself as a lady who has been fighting with the sicknesses from my teenage times and has experienced the tests of death, but still keeps the optimism, cheerful confidence and a positive personality, and has contributed to the others and this world much more than many healthy people.

Every morning, when I walk in the golden sunshine, I often feel that I was just "25 years old" and I would be 23 next year, then maybe someday I would be able to ^grow out ̄ a new tooth... anyway, sometimes, I am also weak and easily to weep...:-)

This is me, a native Chinese with black eyes and hair.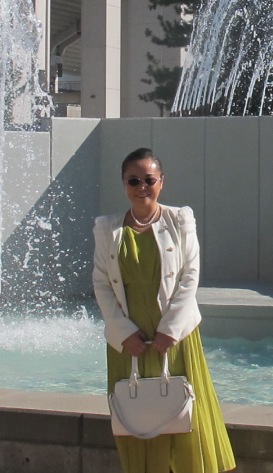 I am happy that I have found my own web site by the good help and support of my volunteer work partners Charlie Quan Zhang from China and Mr. Mike Joyce from England since 2004. I do hope via this little site, to study, research and to found an electronic cross- cultural and comprehensive art and friendship bridge, to help non- Chinese speakers to learn Chinese culture, arts and language, to make my limited life to be more meaningful, helpful and beautiful in the process to help the others.

I hope that I will be lucky enough, to get your understanding, advice, help and support with a big smile.

If you have any questions, suggestions and comments, feel free to write to shirley@ebridge.cn . You are also welcome to leave your message.

Shirley Yiping Zhang