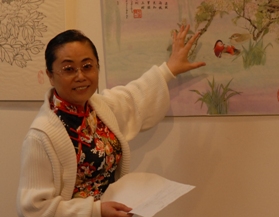 In my opinions, the instrumental character of art decides that since it was created, it has been a tool. Artists express their thoughts and feelings by working on it, government use the ideas in it to help them governor their countries, audiences choose it to please themselves. Chinese painting is same.

Since I would like to create some way to help non-Chinese speakers to know more about Chinese culture artistically, naturally and easily, I thought of telling stories behind my Chinese paintings.

I had this idea at Chinese National Academy of Arts, in the first term of my second class year. Then I tried to start it as my school assignment in the winter vacation, Jan – Feb, 2013.

By learning from Mr. Ren Bonian, I completed my first Stories behind My Chinese Paintings Series --???????: Er Shi Si Xiao Tu -- The Pictures of the Twenty-Four Dutiful Children in Chinese history. Also, I translated and re-wrote the 24 stories that were written in Ancient Chinese into English, to match these stories.

Via the web site www.ebridge.cn, you can find the different culture backgrounds of these stories in different Chinese Dynasties. Via seeing and feeling some traditional culture breath from ancient China, to find some reasons or roots in current Chinese culture phenomenon.

As an exploration, I do hope that my effort will be some help with you to learn Chinese culture and language.

Welcome to the Stories behind My Chinese Painting Column

If you have any questions, comments or suggestions, you are welcome to write to shirley@ebridge.cn or leave your message on Message Board.

Shirley Yiping Zhang
April 14, 2013(Beijing Time)
~~~????????