2002 was my milestone. July, I sent my son to Australia. August,I got my doctoral degree. October, my first translated series with 4 books were published by Jinan (Guang Zhou) University nationwide after I had published 12 books in my professional fields by 5 publishing houses and created and edited more than 6,000 pages of a Securities Newspaper. November, my elder brother who was 48 years old passed away. December, the company that I had worked for 10 years was sold...

All of these happened in a too short time so that I didnot think that I could respond them. Anyway, I asked myself, since life was so short and weak, whether I had any dreams that was not true yet?

When I was thinking, I started to work on my dreams since my childhood...

Just like special medicine, painting and music made me calm down and comfortable... For painting, I had to touch the nature. In the process that touched and observed the nature, I started to see the world with a new view. The more I touched nature, the more I felt the beautiful qualities of the nature. I suddenly realized that there are so many beautiful things in the world. No matter a flower or a grass, a tree or a bird, they are all so wonderful with their natural qualities. They all have lives. They all need to be looked after by the human being... :-)

Because touching the nature, my heart started to get wider, tolerance and happy... while my dreams from the childhood has been true...

In the past 3 years, I painted 99 Gouache pictures and 79 Chinese pictures, over 500 sketched. I have had my own thoughts about Gouache learning. I would like to learn the Western painting way via learn Gouache, and also I want to learn Chinese painting style and combine both of them together to create my own painting style.

Painting is a hard work; painting is also a happy enjoyment; painting will accompany whole of my rest life...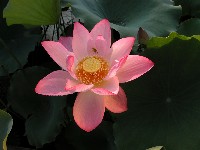 As a learner who teach myself in most of my time, I do hope to get your support, direction and help. If you have any questions, comments and suggestions, please write to shirley@ebridge.cn or shirleyz004@yahoo.com, or publish your opinions in Forum For Friends. You are welcomed.

--Shirley
Mon. Feb, 20, 2006