Title: Shirley's Art Works 862 & Chinese Baimiao -49--A193-Shirley's 252nd Assignment of Chinese National Academy of Arts -Feb 7, 2014 - in USA 29
Artist: Shirley Yiping Zhang
Size: 30cm x 136 cm ( 11.81inches x 53.54 inches)
Completed Time: Feb 7, 2014
Remarks:
This is my 863 Painting since 2003 and my 49thChinese Bai Mao, also, my 252nd assignment in Chinese National Academy of Arts.

Also it is the 27th painting I have done in my travel in the USA since Sep 13, 2013.

I painted this painting Feb 6- 7, 2014, for preparing the demonstration in the evening at my art exhibition.

I had given many classes before this art exhibition, but, for I wanted to people see the lines I paint clear, so, spent two days and 1 night, I painted this.

You and I could not imagine how big brush I used to paint. At the first, the width of the brush was about 0.7cm (0.27 inches); then I changed it bigger and bigger, until I finished it, the brush had been changed to be width 2.0cm (0.78 inches). :-)

How do you think of this painting, do you enjoy it?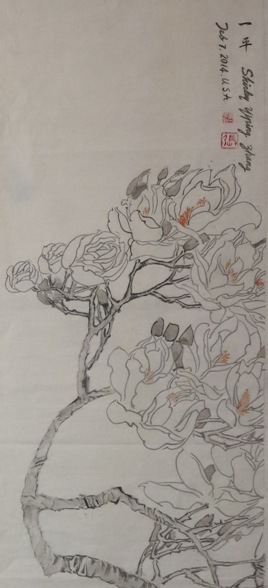 If you have any questions, comments or suggestions, welcome to write to shirley@ebridge.cn, you can also publish your opinions on Message Board . :-)

--Shirley Yiping Zhang
Feb 09, 2014