Today is March 8, 2006. That means that I have learned vocal music for 3 years and 4 months. It also means that I have learned inging for about 168 Saturday nights and more than 500 hours... :-)

I learned singing from Western and Chinese art songs for my teacher thinks that is the foundation to learn singing.

Compare Chinese folk song, China's art song has a very short history because it just started from 20's. Some Chinese musicians brought European music and art songs into China. They made first groups of Chinese art songs then. In the Second World War, some great musicians created many great art songs. In 50's, many Russian art songs came into China and gave Chinese art songs very much positive affections. In the 10 years' Culture Revolution, art songs' creating almostly stopped. But now, along with China's reform and openning, Chinese art songs are in a best time in Chinese art song¡¯s history.

Now, many Chinese musicians are working on learning the excellent part from Western music and to create more excellent Chinese art songs.

I was unlucky that I lad no an opportunity to learn singing in my golden age; I am lucky that I am living in the best times in China's history. I am lucky that I am learning to sing right now. I a lucky that I have met a quite resposible vocal music teacher who had kept for over 3 years to offer me vocal music lesson on all of her Saturday evenings¡­

I am just a learner on singing, however, I really hope what I have sung and will sing can bring you a big smile, to give you some impression about Chinese culture, to help you to have a pair of sensitive ears to understand Chinese language¡­ I really hope to get your understanding, helping and supporting.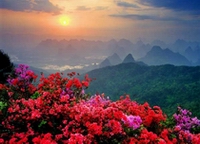 If you have any questions, comments and suggestions, please write to shirley@ebridge.cn or shirleyz004@yahoo.com, or publish your opinions in Forum For Friends. You are welcomed.

--Shirley
Wed, March 8, 2006