Three years ago, when I decided to learn singing and 4 years ago, when I decided to make my piano that had rested for about 10 years to work, I had not really thought what I would do with my music. I just simply thought to make my childhood's dream to be true and to make them to be some necessary culture of a woman's.

However, after I set up this web site, after I would like to offer some Chinese classical poem and modern lyrics on the web site, to help these friends who are interested in China, Chinese culture and Chinese language, to improve their listening ability (I feel that when we are learning a foreign language, listening is the most difficult part) I thought music, also, I thought that Chinese classical poems could be sung in the ancient times.

At the first, I would just like to find some ready-made music from the supermarket or music stores, but, I could not find something I really needed. No way, I thought to create the music by myself. So, on the 9th, Septemble, 2005, first time I created my own music for Chinese first classical poem -- Chinese Classical Poem -- Guan Ju --The Songs of Ospreies'. Since then, I have being keeping my create work. Almost every week, I create a piece of new music. :-)

Even though my music teachers, my parents and the friends who have heard my music gave my works some good comments and someone even encouraged me to work on it as a career, I still work on it as a fun for I can only work on the web site in my free time. What I hope is to help you and the friends who are interested in Chinese culture and Chinese languages via my music creating.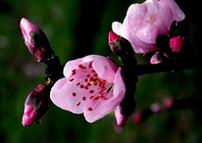 I am just a learner on music creating. I really hope to get your understanding, supports, and help. If you have any questions, comments and suggestions, please write to shirley@ebridge.cn , or shirleyz004@yahoo.com, or publish your opinions in Forum For Friends. You are welcomed. :-)

--Shirley
Wed, March 8, 2006